Lærernes: New property project Randers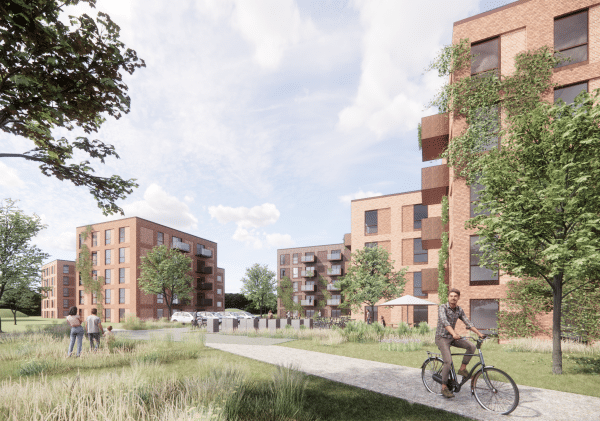 10 February 2023
Over the next few years, Lærernes Pension will build 306 new apartments in Sporbyen in Randers. The project is expected to be completed in 2025.
At Lærernes Pension, we are proud to be able to present our new property project, Engkvarteret, in the new Randers district Sporbyen.
A new creative district
The new apartments will be built in Engkvarteret, one of Sporbyen's five new districts. The factory area in Sporbyen in Randers is undergoing transformation from the former train factory, and is today developing into a new creative district, close to Randers Fjord and only a short cycle ride from Randers Centre. The goal is to create a diverse district full of life and activities.
306 new apartments
The Engkvarteret will consist of a total of 306 apartments spread over 10 townhouses, and there will be one-, two- and three-bedroom apartments. The townhouses are built staggered from one another so that as many tenants as possible have a view of Randers Fjord and all the homes will have their own terrace or balcony. A recreational area with a playground and wild nature will also be built throughout the neighbourhood.
Focus on sustainability
At Lærnernes Pension we have a focus on sustainability and the project is therefore being built with a view to being certified with DGNB Gold.
"It is first and foremost a good and long-term investment, and it is just as important that we again set demands for sustainability by going after the Engkvarteret sustainability certification with DGNB Gold and meets the Building Regulations' low energy class. We also have a big focus on the social agenda, which includes, among other things, apprentices and interns on the construction site and involvement of the local area", says director of property at Lærernes Pension, Henrik Walther Mogensen.
Construction will start in August 2023 and the 306 apartments are expected to be ready for occupancy during 2025, spread over three stages.
Source: Laerernes