Legal & General completes largest residential investment in Northern Ireland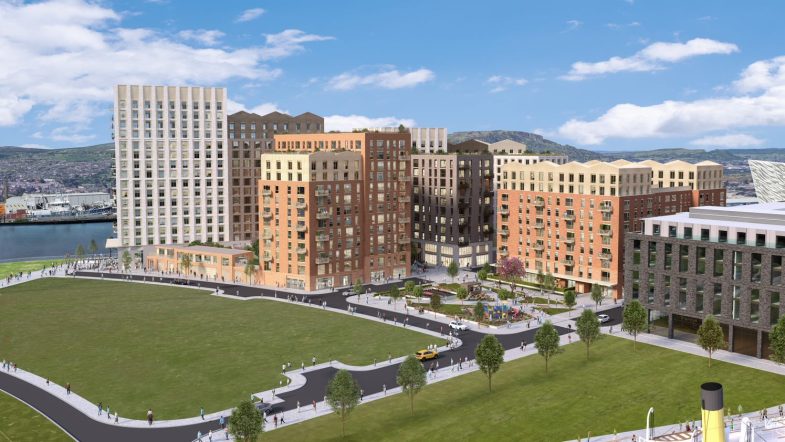 6 June 2023
Legal & General ('L&G') today announces the funding of a £150m residential development in Belfast, Northern Ireland, committing to the largest residential investment in the region which will fund the development of 627 new homes – addressing soaring rental demand in the region.
The 627 homes form part of a residential development, known as Loft Lines, located within the Titanic Quarter in Belfast, on the banks of the River Lagan and by the Titanic Belfast Museum. On completion, the Build to Rent scheme will be made up of a mix of 1, 2 and 3-bed apartments, including resident facilities such as a gym, dedicated work from home space, podium gardens and terraces, and will include c. 11,000sqft of commercial space.
Loft Lines will be developed by Watkin Jones in partnership with Lacuna Developments, with completion expected in 2026.
According to Belfast City Housing Land Summary, there have been 363 rental homes completed in Belfast City Centre since 2015. The 627 homes funded by L&G will represent a 172% increase in total housing delivery since 2015. With a positive economic forecast and strong growth in Northern Ireland Belfast looks to represent an increasingly attractive city for Build to Rent investment.
Loft Lines is set to not only respond to the rental supply and demand imbalance in Belfast, but also transform the region's city centre living offer. Marking the first combined Build to Rent and mixed tenure affordable housing scheme in the region, Loft Lines will include an additional 151 affordable homes, funded and operated by Clanmil Housing Association. With a total of 778 new waterfront homes – comprising 627 BTR and 151 affordable homes – the Loft Lines scheme will repurpose the current brownfield site, and further catalyse the regeneration of Titanic Quarter.
The Titanic Quarter is one of Europe's largest waterfront urban regeneration areas. It is well connected, owing to a £150m Rapid Transport System delivered in 2018, to improve the efficiency of mass transit in the city. With an abundance of local amenities, employers including multi-national businesses, and cultural destinations within close proximity of the site, there is a thriving community and strong labour market – resulting in significant demand for high-quality residential property.
Legal & General remain committed to helping drive regional economic growth, in order to improve lives and deliver positive social outcomes. This investment follows several years in which Legal & General's involvement in the development and regeneration of the regions has grown rapidly. Using dynamic partnerships with the public and private sector to level up regional economies, Legal & General has so far invested over £30bn into direct investments such as clean energy, transport infrastructure and multi-tenure homes.
L&G's investment in Loft Lines follows a string of investments made by LGIM's BTR platform which now totals over 9,000 apartments under construction or in operation (as at June 2023). L&G were advised by CBRE.
Source: Legal & General