Third of UK workforce invest in British solar farm through Nest pension savings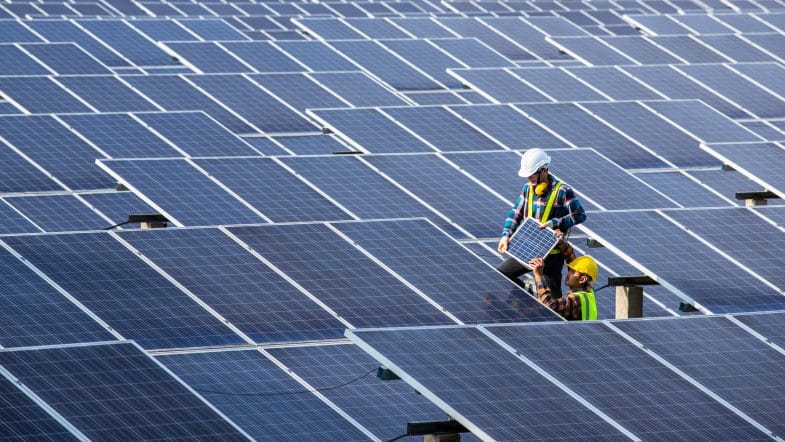 22 November 2021
Nest, one of the UK's largest pension schemes by membership, has today confirmed the purchase of a multi-million-pound solar farm through its partnership with Octopus Renewables.
Octopus Renewables, as its lead fund manager for renewable investments, is helping the pension scheme invest billions of pounds into green infrastructure over the coming decades.
The first people to formally tour the 60,000-panel solar farm, following its addition to Nest's £20bn investment portfolio, were Nest savers. In total nearly 10 million Nest members, a third of the UK workforce, are now investors in the solar farm.
The investment into the Reading solar farm represents one of the largest deals by Nest into green UK renewable energy. Nest's membership should benefit from the strong investment returns the solar farm is expected to produce for decades to come, under the management of Octopus Renewables.
Nest savers were invited to visit the site on Monday, 18 October to show how their pension was being invested in the real world, connecting people to their pension through something they can see.
Research shows people care how their pension is invested, particularly in relation to climate change. 65% of pension savers believe their pension should be invested in a way that reduces the impact of climate change. Just 4% strongly disagreed.
Ensuring the solar farm continuously operates at peak efficiency is achieved through the operations management and maintenance provided by BayWa r.e. During the visit, representatives from BayWa helped explain how the solar farm operates and provides a sustainable and reliable return on investment.
Survey data featured within the press notice was conducted by YouGov (July 2020) among 2,010 UK adults, of which 1,183 were saving into at least one pension.
Source: NEST