PIC invests £50 million in Portsmouth Water to finance the construction of the UK's first reservoir since 1991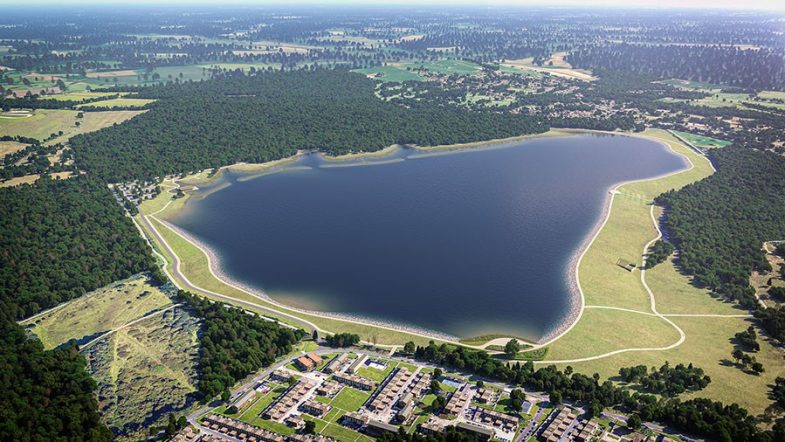 16 March 2023
Pension Insurance Corporation plc ('PIC'), a specialist insurer of defined benefit pension funds, has invested £50 million in Portsmouth Water to fund the construction of the Havant Thicket Reservoir, the first reservoir to be built in the UK since the 1990s.
The Havant Thicket Reservoir, situated in southern Hampshire, is intended to address the significant water resource challenge faced by much of the South East of England and protect Hampshire's rare chalk streams. Portsmouth Water is in a position to help with this major challenge because of the large number of natural springs in the Havant area. These springs deliver a high quality, sustainable supply of water all year round and are thought to be one of the largest individual sources of spring water in Europe.
In winter, and during periods of high rainfall, there is surplus water in these springs which flows straight out to sea. The purpose of the new reservoir is to store this excess water and use it to facilitate a bulk supply to Southern Water, another regulated water company operating in the South East of England.
The reservoir will provide 8.7 billion litres of raw water storage, retained by an earth embankment dam. It is expected to take six years to design, construct and commission. It will then enable supply of up to 21 million litres of water per day to Southern Water in periods of drought, reducing abstraction from the neighbouring River Itchen and the River Test, and protect the biodiversity of these unique environments.
The investment provides a good match for PIC's pension liabilities with stable and predictable CPI-linked cash-flows.
Key points:
£50 million of CPI-linked senior debt in Portsmouth Water
the debt matures in 2037, matching pensioner payments
the debt is wrapped by Assured Guaranty
Centrus acted as advisers on the transaction. Linklaters represented PIC.
Thomas Foucoin, Senior Debt Origination Manager at Pension Insurance Corporation, said: "We are very pleased to have completed our first investment with Portsmouth Water to finance the UK's first new reservoir for over thirty years. This is a major infrastructure project which will play a critical role in ensuring adequate water supply to local communities across the South East of England, and aligns well with PIC's own values and purpose.
"PIC has provided over £5 billion of financing to greenfield and brownfield infrastructure projects, as well as corporate borrowers, in the last five years. Our team has a track record of tailoring financing solutions which match the needs of large infrastructure projects, including long tenors, deferred drawdowns, and lending in multiple currencies."
Bob Taylor, Chief Executive Officer for Portsmouth Water, said: "We are delighted to have secured the £325 million investment required to construct Havant Thicket Reservoir. This will be the first large scale water storage reservoir to be built in the UK since the 1990s.
"It will play a key role in protecting internationally important chalk rivers – the River Test and the River Itchen, by securing a new, sustainable source of water for the region. This is an exciting time for the project. We have recently taken a major step forward in awarding the main reservoir works contract and, with all capital and investment now secured, look forward to work progressing on site."
Source: Pension Insurance Corporation