Aegon Asset Management strengthens its leading positions in Alternative Fixed Income and Retirement Investment Solutions in the Netherlands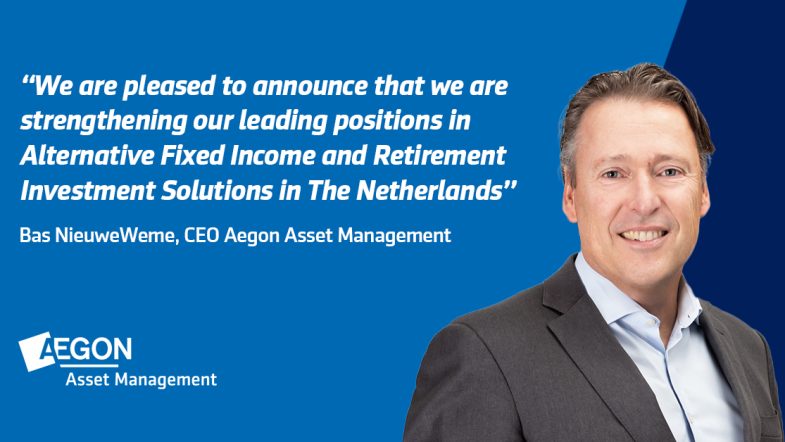 5 juli 2023
AEGON AM publiceert op zijn website:
We are proud to announce Aegon Asset Management (Aegon AM) has strengthened its leading positions in Alternative Fixed Income and Retirement Investment Solutions in the Netherlands, following the completion of the transaction between Aegon and a.s.r. to combine their Dutch insurance, pension, banking and mortgage origination activities on July 4, 2023.
Our Dutch asset management activities will remain an integral part of the strategy of Aegon. We are excited about the opportunities this offers our clients, as this agreement enables us to service them even better going forward.
First, a transfer of portfolios will take place as Aegon AM is entering a long-term strategic partnership with a.s.r. vermogensbeheer. Under this partnership Aegon AM will manage the alternative fixed income portfolios of the combined Aegon/a.s.r. insurance balance sheet. These activities will be added to our current book of business and will strengthen our position as an Alternative Fixed Income provider.
While the management of Aegon's buy and hold investment grade credits, sovereigns and derivatives general account will transition from Aegon AM to a.s.r. vermogensbeheer. Aegon AM will continue to manage the Aegon Cappital's Premium Pension Institution (PPI) proposition and Aegon's unit-linked and other defined contribution portfolios. This, combined with our fiduciary business and our strategic relationship with Stap will help us secure our leading position as a Dutch retirement investment solution provider.
Under the transfer of portfolios, approximately EUR 16 billion will be added to our illiquid fixed income asset base, which currently amounts to circa EUR 60 billion (per 31 Dec 2022). This will further strengthen our already strong position in these specific areas. As far as our future product offerings are concerned, our alternative fixed income suite will broaden with the transition of a.s.r.'s mortgage funds, private debt and renewable energy funds to
Aegon AM.
Second, the agreement allows us to strengthen our position in retirement investment solutions and responsible investing and to build further leadership in these areas. By capitalizing on this opportunity, we have strategically merged our LDI- and Core Fixed Income specialists, enabling dynamic collaboration and maximizing synergy to enhance client servicing. The combined team, Fixed Income, LDI & Investment Solutions (FILS), offers a comprehensive platform for managing over EUR 30 billion in LDI, matching, and fixed income assets for over 100 clients.
Third, Aegon AM's manager selection team will take on the external manager selection and monitoring oversight for a.s.r.'s private debt capabilities.
In summary, the Aegon-a.s.r. transaction will allow clients to benefit from our broader service offering and strengthened capabilities in these specific areas of expertise. We remain committed to delivering strong results and maintaining our high-performance standards.
Source: AEGON AM