AkademikerPension builds accommodation for adults with autism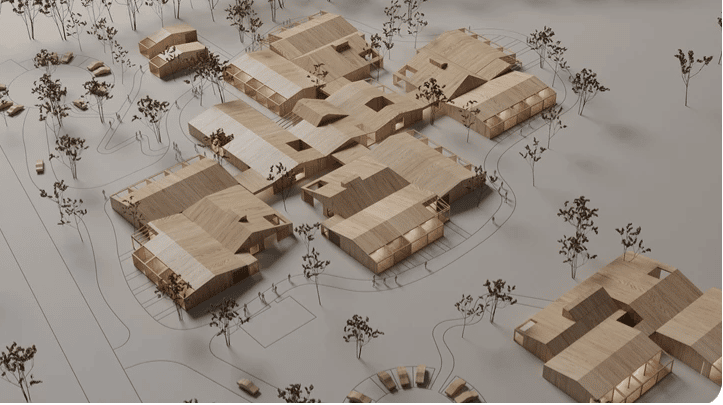 1 February 2023
With an investment of DKK 130 million in the construction of a residence for adults with autism, AkademikerPension has initiated what the company itself calls "a new leg" in the real estate strategy – namely the real estate segment, social infrastructure.
The 4,470 m2 residence will be located by Hvalsø in Lejre Municipality. AkademikerPension finances the construction and takes over the property upon completion, and Ny Højtoft, as the residence will be called, signs a 30-year lease.
"At AkademikerPension, we try to be responsible in everything we do. And with Ny Højtoft, we are helping to solve a societal need, while at the same time making a good investment for our members", says managing director, Jens Munch Holst.
There is also great satisfaction with the agreement at the Højtoft residence, which will now have a new autism-specific residence.
"With an increasing need for more places to live, we are beyond happy that we will soon be able to open the doors to 46 new places. In AkademikerPension, we have found a partner who, like us, has a great focus on the construction taking into account a wide range of responsibility parameters when it comes to the needs of the residents", says Thomas Viskum, superintendent at Højtoft.
New partnership must ensure more housing offers
In connection with the construction of Ny Højtoft, AkademikerPension and the National Association of Autism have entered into a partnership, which should eventually lead to more newly built housing. This must be done by the parties around the country's municipalities finding attractive building sites where new residences can be built. For this specific purpose, the National Association of Autism has established the business foundation, Boligfonden Autism.
"We hope that in the long term the agreement will result in 5-10 projects and a portfolio of around one billion kroner", says property manager at AkademikerPension, Søren Møller-Larsson, who explains that the partnership is an addition to the pension fund's new property strategy.
"With responsibility as the overarching theme, we are now adding social infrastructure as a new leg that nicely complements our great focus on residential properties. In general, we purposefully look for partners with the same mindset as us, and we believe we have found that in the National Association of Autism", says the property manager.
At the National Association of Autism, chairman Brian Andersen is also excited about the new partnership.
"The need for new residences only goes one way – up. Therefore, it has meant a lot to us to find a business partner who not only has an investment focus, but also a focus on responsible social construction. The agreement makes it possible to look for new locations and new interested partners for the construction of new residences for our members", he says.
New Højtoft is expected to be completed in the second quarter of 2024
Source: AkademikerPension