London CIV: London Bridge office tower to go ahead as part of London Fund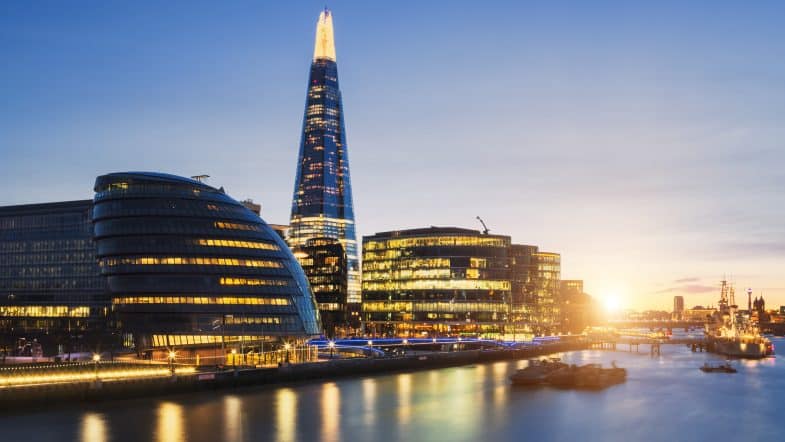 7 October 2022
The joint venture partners, Local Pensions Partnership Investments ("LPPI") through the LPPI Real Estate Fund, The London Fund (a collaboration between LGPS investment pools LPPI and London LGPS CIV), Goldman Sachs Asset Management and Edge, have appointed Mace as the general contractor for their EDGE London Bridge project, a 260,000 sq ft NIA best-in-class, sustainable office tower in St Thomas Street, London Bridge.
The funding partnership – LPPI Real Estate Fund, The London Fund and Goldman Sachs Asset Management – will own approximately 75% of the EDGE London Bridge development, with the remainder owned by Edge.
Mace has been selected to deliver the office building and to help drive sustainable construction methods during the development process. Mace achieved net zero in 2020 with minimal offsetting and has since pledged to further reduce its carbon emissions by 10% each year.
Construction on EDGE London Bridge is expected to commence in January 2023. The office building, with 28 floors of commercial space, is located at St Thomas Street on London's vibrant South Bank. It is adjacent to the recently refurbished London Bridge Station and within a five-minute walk of many local amenities including Borough Market and Bermondsey Street.
Due to be completed in Q1 2026, the building has a target of becoming "Paris-Proof", with targeted regulated energy consumption of less than 23 kWh/sqm to align with the RIBA 2030 Climate Challenge operational intensity targets for new-build offices. This is a key offering for potential tenants seeking out an office that will help them to achieve their sustainability objectives.
Underfloor air supply in combination with natural ventilation will provide optimal air quality, which, together with natural light from the floor-to-ceiling windows and radiant cooling, will provide an engaging and healthy environment for occupiers. Biophilic design, planted balconies and a large, shared roof terrace will further enhance the occupier experience.
Through its innovative design, the building will emit less than half the amount of carbon emissions compared to similar towers and generate some of its own renewable energy onsite. It will also target the highest levels of BREEAM (Outstanding) / WELL (Platinum) and WIRED (Platinum) certifications.
Who is Edge?
Edge is an Amsterdam-based developer that focuses on wellbeing, sustainability, design and technology. The aim of every Edge development is not only to improve its users' health and wellbeing, but to also deliver public benefits to the wider community. The EDGE London Bridge designs therefore incorporate a new landscaped public park and the base of the building will be publicly accessible with amenities for the local community.
EDGE London Bridge will be Edge's first net zero carbon development in the UK, following the announcement of its net zero carbon commitments earlier this year. The pledge set out a goal to reduce all Scope 1, 2 and 3 emissions, including the embodied and operational emissions of Edge's activity on company and project levels, to absolute zero by 2050 or earlier.
Regeneration and environment core to investment
The development continues a multi-year regeneration of the London Bridge area, benefitting local communities across the London Borough of Southwark. The borough has delivered a variety of regeneration programmes which enabled it to fall from the 12th most deprived local authority in the UK, to the 41st.
Located close to London Bridge station, London's fourth busiest railway station, tenants will have access to a wide range of transport options including Jubilee and Northern underground lines and Southern, South Eastern and Thameslink trains, and the local bus network. The development is close to Borough Market and moments from Bermondsey Street, home to the world-leading contemporary art gallery, White Cube.
Third major investment by The London Fund
This is the third major investment for The London Fund, following its £30 million commitment to YOO Capital Fund II LP in August 2022, which is embarking on regeneration and redevelopment projects to Shepherd's Bush Market and the West End's Saville Theatre, with considerable benefits for local communities.
This office tower development, with sustainability credentials, meets The London Fund's objective of supporting a 'double bottom line' by generating a social benefit in Greater London through job creation, regeneration and providing a positive environmental impact for Londoners.
Richard J Tomlinson, Chief Investment Officer, Local Pensions Partnership Investments, says:
"We are excited to be part of this ground-breaking development that is set to redefine commercial building innovation and design for a more sustainable world. More than 2,000 UK companies have committed to net zero carbon emissions by 2050 and EDGE London Bridge will help some of these companies to accelerate their sustainability objectives.
"This project demonstrates our investment strategy to support large-scale regeneration projects that create jobs, lower carbon emissions, offer affordable workspace, and provide considerable environmental benefits to local communities."
Chris Semones, a Managing Director in the Real Estate business within Goldman Sachs Asset Management, says:
"We are delighted to partner with our funding partners, LPPI and The London Fund, our operating partner Edge, and our contractor Mace, to deliver a new benchmark for sustainable office towers in London. The asset will provide an attractive base for tenants upon completion given its highly connected and amenitised location. In addition, the high level of sustainability we are targeting will help occupiers meet their own ESG goals."
Source: London CIV